In the latest episode of our Ask the Experts series, Jess chats with Nicola Powell, Senior Research Analyst for Domain, to deliver your need-to-know guide on the Australian property market right now.
Are feeling overwhelmed, hopeless, or confused about the state of the Australian property market? There's no question that property prices are rising at exponential rates across the country. So, is now the right time to buy or sell? Are there signs of it slowing down?
Get ready to have all your burning property questions answered!
We're thrilled to be joined by Dr. Nicola Powell is Senior Research Analyst for Domain. Nicola is the leading force behind Domain's data reports that keep the Australian public up to date on what's happening in the market. She is a well-known property expert, featuring regularly on broadcast and in print media, as well as Domain's media channels.
In this conversation, Jess and Nicola covered a bunch of topics including:
✸ What's driving the market conditions around the country?
✸ What to be wary of when buying or selling property now
✸ How to expand your options if you can't afford to buy in the area you want to live in
✸ Weighing up the risk of buying at potentially the top of the market
✸ How to decide which area of Australia fits what you're looking for in property + MORE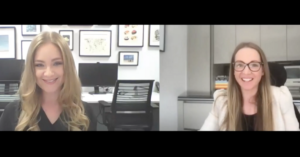 What is causing Australia's exponential growth in property prices? 
It's the question on everyone's lips: what the heck is going on with property prices across Australia?
Nicola explains that stats we're seeing across the country are incredibly unique. "The conditions that we've seen in 2021 so far are very rare and unusual," tells Nicola.
"We've got record-high property prices nationally across our capital cities. The median price is almost at $900,000, and Sydney is much higher than that at $1.3 million. We saw the steepest quarterly gain in 18 years," explains Nicola.
The rate of growth is being seen in all parts of the country, which is another rare trend Nicola points out.
"The most notable trend we've seen to date in 2021 is that every single capital city in Australia is posting quarterly capital growth. It's the first time house prices have risen simultaneously for two consecutive quarters since 2009 (post-GFC)," she explains.
So, what are the reasons causing this lift in prices nationwide? Nicola points to a few things:
Record low-interest rates: this has spurred on buyers to enter the market and improved the affordability of home loan repayments. Plus, low-interest rates are one of the main drivers of demand and ultimately property price growth, too.
Record levels of household savings: with international travel off the cards, Australians are squirreling away more money than ever before. That means buyers have more spare cash than usual, and the move to upsize has been accelerated.
Low listing volumes: Nicola has seen a low number of properties up for sale at a time when there are lots of buyers trying to get into the market.
"Sydney and Canberra have seen the strongest quarterly gain on record in 2021. These records go back 30 years, so it's been a rare and phenomenal period of growth," reveals Nicola.
As for what lies ahead for the rest of 2021, Nicola expects prices will continue to rise, but the rate and pace of growth will slow down. As affordability becomes a big issue (and many buyers become priced out of the market) and stock levels increase, price growth is predicted to ease in the second half of 2021.
How are different states and capital cities performing in Australia? 
But there are different trends in different parts of the country, with Nicola explaining what she is seeing in a handful of Australian cities.
Brisbane: there are big differences in performance based on property types, which means houses are performing extremely well (with record-high house prices) and less growth in apartment prices. Brisbane is seeing much more stable conditions, with steady capital growth making it a better environment, particularly for first home buyers.
Sydney: the market has been incredibly hot in 2021, with a record high median house price of $1.3 million. In just the first 3 months of the year, house prices jumped over $103,000, which is just a phenomenal rate of growth. It's very rare and makes conditions very challenging for first home buyers. The areas of Sydney seeing the strongest rates of growth are the Eastern Suburbs, Northern Beaches, and the Baulkin Hills area, which are all areas at the upper end of the market. This rapid quarterly growth is unlikely to continue. Sellers are being lured to market by record prices and listings are increasing, which is tipped to slow down growth rates in Sydney.
Melbourne: The first few months of 2021 saw the record-high house and unit prices in Melbourne. The market has been impacted by Melbourne's longer, stricter lockdowns in 2020, but is currently experiencing a surge of post-lockdown demand. If we continue to see this level of price growth, the median price in Melbourne is likely to crack $1 million by June.
As for property types, there's a clear trend in price growth between units and houses. "Units have underperformed when compared to houses, but there are signs of opportunity. Low-density apartments geared towards owner-occupies with unique features (such as heritage features) will always have a strong appeal and hold value," tells Nicola.
Why have regional areas in Australia seen booming property prices?
In 2020, 43,000 Australians moved from cities to the regions (compared to just 19,00 the year prior). Naturally, property prices have also risen sharply in these regional areas as a result.
Nicola explains, "We saw stronger rates of growth in regional areas in 2020 than in our capital cities, which is a pretty big statement, particularly for NSW and VIC. We're starting to see that change, with stronger rates of quarterly growth in our capital cities compared with regional markets."
Nicola believes that the pandemic accelerated this exodus from the cities because Australians enjoy the lifestyle, affordability, and ability to work from home that the regions enable. But she cautions that we might see some of this trend reverse as more "normal" working habits resume.
As for investors, Nicola recommends investors look for 3 things when investing in regional areas:
Look for properties in the 'sweet spot' of proximity to capital cities (ideally within a 150km radius of capital areas).
Search for areas with good existing (and future) infrastructure and connectivity to amenities such as school, grocery stores, hospitals, and lifestyle amenities.
Ensure the area has a good employment base and plenty of job opportunities for multiple industries and sectors.
How are these market conditions impact first home buyers?
Obviously, these booming market conditions are causing many first home buyers to feel despondent about their chances of cracking the property market.
While prices are still tipped to rise in 2021, Nicola believes the most dramatic growth in prices are behind us. She points out that there has been an increase in property listings which should help to relieve the pressure on the market in the second half of 2021.
While Nicola believes it's important to seek specific advice to find out what's the right move for your situation, she does remind buyers that the average age of first home buyers in Australia is rising.
"In Australia, the average age of a first home buyer is 35 years. We've seen that track higher in recent years. That's because the way we live our lives has changed: a higher majority of us are going to university, we're settling down later in life, we're starting families later, etc.," tells Nicola.
Our top takeaway points
While there were stacks are expert insights shared during our session, these are our biggest takeaways:
Don't try to time the market: It is very hard to pick the top and bottom of the market. That means if you have a deposit ready, think about your own personal circumstances when deciding when to buy. Property should be a long-term investment, and you'll be able to ride out the ups and downs of the market over the years to come.
Make sure you're taking advantage of first home buyer incentives: both state and federal governments are offering a range of incentives and subsidies for first home buyers, particularly for new builds, so make sure to check what programs you might be eligible for.
Consider future interest rate rises: while the RBA has said rates will remain low, buyers need to be prepared for rates to rise in the months and years to come (particularly as a mortgage is often a 30+ year commitment). That means having a buffer in your savings to account for any rate rises and cover any additional mortgage costs.
Want to learn more about becoming a Fox & Hare member? Click here to book in for a quick chat.