Jess and Glen sat down with IFA Australia to share the Fox & Hare journey and how they advise their millennial clients in the current climate.
JUST BEFORE the royal commission began, two ex- Macquarie financial services workers decided to start their own advice business in Surry Hills, Sydney. Neither Jessica Brady nor Glen Hare had ever operated their own business or given financial advice, but they felt compelled to serve people who they saw were missing out. Their aim was to turn the practice, usually targeted at wealthier and older clients, into something accessible for a younger and more diverse crowd. The business, Fox & Hare, is now on the cusp of turning two years old. Since starting with no clients or experience, it has recently ticked over to 100 clients. Prior to starting Fox & Hare, Mr Hare had been with Macquarie for around a decade. He departed three years into being one of the youngest directors in the company. Ms Brady on the hand has worked in financial services for 13 years, and she had been with CBA and Zurich.
"All the while my clients were financial advisers and really what I could see was, there wasn't a great amount of choice for people who looked like me," Ms Brady says.
"I thought most financial advisers were really gearing themselves up
for wealthy pre-retiree traditional style clients and I felt with Glen, there is such a broad subset of society that really need help getting advice.
"It doesn't make sense just to wait until you're five years out from retirement, when you need the wealth that you've accumulated to go then and you need it faster. We really want to help clients much earlier in the piece."
Both in their 30s, they target clients between 25 and 45. They have also made a point of catering to clients who have not been typical consumers in the space, welcoming young women and LGBT couples. Ms Brady reasons that the industry broadly has not done well enough in diversity, across both those giving and receiving advice. Currently, women have been reported to make up around 20 per cent of advisers in Australia. Ms Brady describes the gap as a vicious cycle perpetuating itself.
"I think most people want to seek advice from people who look and feel like them, and that may mean that if there aren't
a lot of women giving advice, then that may put some women off actually receiving advice," she says.
"I think that the main thing for us is, we want people to know that they are welcome irrespective of their gender, irrespective of their sexual identity, irrespective of their religion or race, and socioeconomic status to an extent. Like we want people from a whole diverse range of backgrounds to know that they won't be judged if they come and seek advice from us.
"We want them to know that Fox & Hare is a safe space to come and get advice that's, you know, really in their best interest, that is aligned to their goals, whatever they may be, and that they're not going to feel intimidated or overwhelmed by the experience."
The pair have used their network for referrals, social media and events to grow their base.
"One thing that's been amazing and probably quite surprising to the community at large is we've never really wanted for clients," Ms Brady says.
"That hasn't been a challenge. And I think that speaks to the fact that we really are speaking a different language and
we really are catering to a younger demographic who didn't know where to turn to before."
Ms Brady says she saw a gap between traditional advice and demand from younger people for strategic and non- biased advice.
"It was a very bold move to leave a fantastic corporate role, and it was a fantastic corporate role, but it was just this burning desire to be able to help people at the coalface and really have that engagement one-on- one and know that we're making a difference,"
she says.
"It's incredibly rewarding to be able to watch clients kind of move from, you know, that scared and anxiety-filled person at the beginning of the experience to someone who feels really on top of their financial world and knows how their strategies kind of move them towards whatever it is that they want to achieve."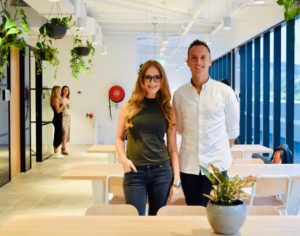 Serving tech-savvy clients
The process of giving advice is filled with friction at different points along the way. Fox & Hare uses a range of technology to combat it, Ms Brady believes more so than other practices.
One of the systems it has implemented is a goal tracking system, with daily monitoring for clients across accounts and investments in one interface. The business also doesn't use fax lines or handwritten forms, instead asking clients to complete online forms that move directly into its CRM. Ms Brady says old systems can be "challenging", referring to a client's provider, where she has been required to post original copies of paper- based information, with a five to 10 business day turn- around time.
"We've really just tried to think about the clients that we work with who are young, tech-savvy, digitally native people, you know, they want us to interact with them in a way that they would with any other kind of provider," Ms Brady comments.
"They expect to be able to do things online, they expect us to be able to sign documents online, they expect information can seamlessly transfer from one kind of system to another and that they could have live information on their accounts and portfolios related to goals.
"We're just trying to create great client experiences but also remove admin burdens where we can from the back end to kind of minimise cost to serve. If we can create tech solutions that really enhance that journey for the client, just make it easier for them, then we're definitely keen to do that."
The technology is a tool, she says, to engage clients, keep them accountable and to motivate them to achieve their goals.
"And when I say a goal, I don't mean, you know, I saved $10,000 or $100,000 or, you know, the traditional home, pay off your home loan," she says.
"Whilst they are some of the financial goals, your clients get very disengaged very quickly. But if you're able to really understand at a deeper level who is your client and what do they really truly want to achieve? And it might be that they want to pay down their mortgage so that the following five years they can spend, you know, travelling Europe or sending their children to a school that's really important to them.
"You've really got to understand deeply what motivates the clients and then those tools become incredibly powerful."It is a balance, however, between understanding problems and how to solve them, creating and using the best technology solution that you can, and using it when it's appropriate. Otherwise constantly updating tech can become disruptive to business efficiency, Ms Brady says.
"I'm always looking at new stuff, which is exciting. And I am really excited about where the industry is moving from a tech perspective," she says.
"I think there's a number of really interesting techs that's coming to play and if it does what they say it's going to do I feel like it's going to revolutionise how we give advice and the quality of the conversations that we have."
Giving back in investing
Social responsibility is also key to the business, both in its investing approach and its own partnerships with not- for-profits. Fox & Hare offers ethical advice to its clients, tailored to each person's values and goals. In addition to offering ethical investing, the business has three charity partners it has programs with: YWCA, a not-for- profit that works to empower women through education, housing, crisis support and other initiatives, and School for Life, an organisation aiming to help Ugandan children get an education. Mr Hare is a national partnerships manager with the third partner, LGBTIQ organisation Out for Australia. The charity helps people stay out of the closet in the workplace, who avoid being open about their sexuality because of fears around how it will affect their career.
Ms Brady has also conducted finance workshops with YWCA. She says it's important for the business to do work aligned with its value, particularly when their clients are young and socially aware.
"I don't know many other advice businesses that are small like us who take such a keen interest in community and charities that really align to who we are and what we believe in as well," Ms Brady says.
On ethical investing, she notes she has to be careful in the advice she gives.
"I think the whole ethical investing space is challenging in that there is no, I believe there's not enough robust analysis of, you know, what is a green investment? Is it really green? Because I see that there's quite a bit of green washing in that not a lot of the green investments, I believe, are really true to label.
"The trend very clearly is showing that this space is becoming more and more of interest and I think it's imperative that investment managers actually start looking at this more seriously rather than something that, you know, almost being seen as a bit cute.
"I'd like to think that if I could sit here in 12 months' time or 24 months' time, I will have the ability to talk about many more green and ethical investment strategies, but at the moment I am limited to what the market has."
– Article written by Sarah Simpkins for the IFA 18/09/19.